New York Times Story Formats
The Story Formats team helps build reporter-first short-form narratives. These story formats are called "Bursts."
On the backend, I made editor workflow and design improvements to the CMS that publishes bursts.
On the frontend, I audited and reinvented a full design system component library with typography and UI updates to improve the reader experience. I also designed new interactive features such as audio and video players.
(Design collaborator: Dalit Shalom)
New York Times Maker Week 2020: Readerversary
Readerversary is an idea for an experience that celebrates reader suscription anniversary.
My maker week team and I built this for NYT's annual Maker Week. I led the visual and interaction design. Our project won "Best Overall."
Featured
here
in NYT Open.
(Design collaborator: Leah Anton)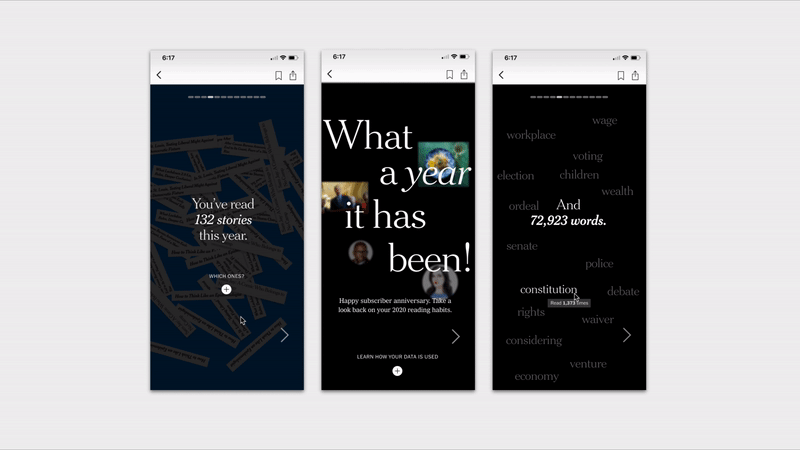 Type Exercise: Congress.gov
Congress.gov is an open-source database that contains all U.S. legislation. It's one of the most important websites in the U.S., but its bills are formatted for print and the web reader experience is overlooked.
In this exercise, I reimagine what Congress.gov bills could look like if reader experience and typographic hierarchy were prioritized.
More visual projects
here
↗